Customized Springboard for gymnastics specially designed for children
---
---
Springboard is a tool often used in gymnastics training. The existing Springboard generally includes two board bodies, the two board bodies are connected at one end, and a spring is arranged between the two board bodies. However, the angle of this kind of Springboard is fixed and cannot be adjusted, and when the ground is not flat enough or the springboard angle or springboard elasticity needs to be adjusted, it cannot meet the needs of users, especially the springboard used by children, because of differences in personal weight and height. , The requirements for the angle and elasticity of the Springboard are very different. Therefore, a Spring Board for Children that can easily adjust the elasticity and angle is needed.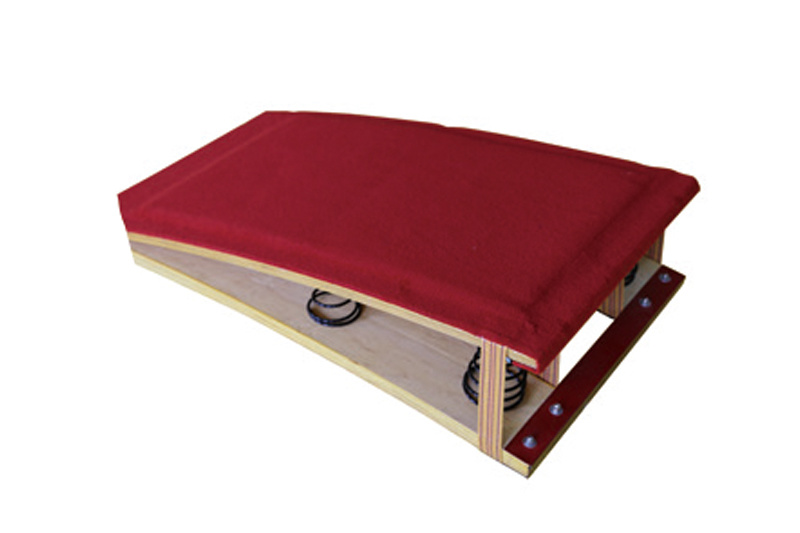 In view of the above-mentioned problems in the prior art, this Springboard provides a new springboard for gymnastics designed for children, which can not only adjust the elasticity of the springboard by replacing the spring, but also adjust the angle of the springboard, which can be better suited Children use.
In the Springboard, sleeves are welded to the front and rear positions of the left end respectively, and a rotating shaft is penetrated inside the sleeve. The ends of the front and rear ends of the rotating shaft are respectively provided with a clamping groove, and a clamping ring is clamped in the clamping groove. It is simple. It can realize the rotation connection of the left end of the Springboard, and at the same time, prevent the shaft from loosening and coming out by setting the slot and the snap ring at both ends of the shaft.
The lower surface of the Springboard is provided with a non-slip rubber layer. The upper surface of the springboard is provided with a rubber layer to prevent the human foot from slipping and avoid slipping by the user. At the same time, it also helps the user to exert force. The rubber layer on the lower surface is to prevent The lower surface of the Springboard slides with the ground, which is convenient for users to use.
The new Springboard can easily achieve the purpose of adjusting the angle of the Springboard, and also facilitate the disassembly of the movable rod and the fixed rod. It has a flexible working mode and is especially suitable for children with large differences in height and weight.
---